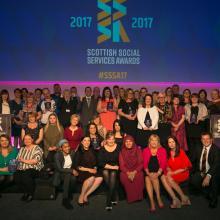 The Scottish Social Services Awards 2018 will officially open for entries next month.
People working in social services across Scotland are being encouraged to start planning their entries now by checking out the 2017 winners' films and entries.
The same great categories are back: celebrating those who have the courage to take a risk, stick their head above the parapet and the bright sparks of the future.
Published in
News
on
7 Nov 2017