Hafan y Mor ( Haven by the Sea) is a new unit for children with disabilities in Swansea, Wales.
The families chose the theme for the centre and photos of the children enjoying an arts day on the beach cover the walls. The doors to the consulting rooms are beach huts and kites fly everywhere…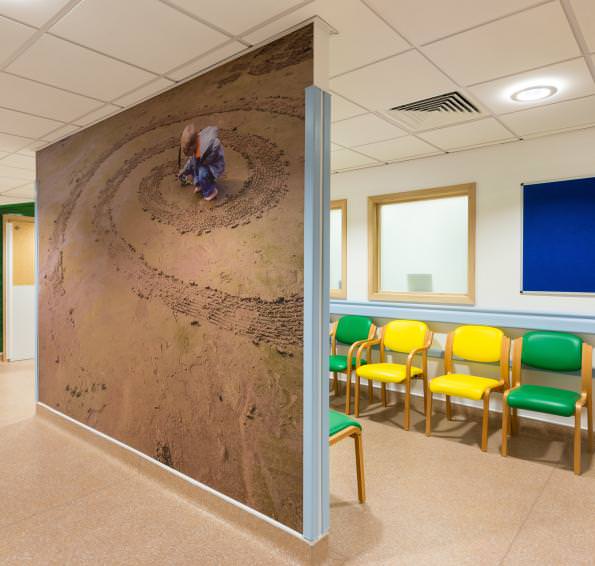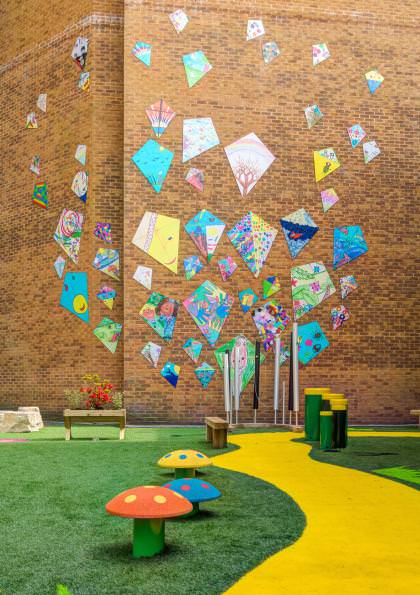 The kites project was managed by LOWCS international and they had 600 entries from children all over Swansea and over 100 were produced for inside and outside the centre. I am looking forward to the last two pieces being installed – sailing boats between the disabled parking bays and the centre name designed by children.
Parents quote:
It has been a really collaborative process and will continue with a research project into interactive art which can feed into the therapy process. The photographic mural in the waiting area as we walk into the centre is wonderful; it creates a really relaxing atmosphere. The lighting is a suspended image of clouds in blue sky taken at the art on the beach day. This particularly is relaxing as bright artificial lighting can be quite unpleasant for Danny and Bobby. As a family we feature in the wall mural, both in the waiting area that includes all of us, and on another mural wall near the treatment areas (our youngest son Bobby is the focus). For Danny and Bobby this is fantastic as they reminisce about our afternoon at the beach and it helps them to feel relaxed and happy whilst waiting for treatment or reviews.