At Iriss, we're often asked about what's worked and what hasn't in our projects. On October 3rd, we hosted an event to share the learning from two co-design projects that we've run recently - one with older people and practitioners who worked together to improve the pathway from hospital to home; and the other with people who access, or may in the future access, self-directed support (SDS) and practitioners - Pilotlight. 
The event was an opportunity to focus on what we've learned about co-design, and to specifically focus on tools that can support this process. It was fantastic to share and learn with 40 social services practitioners from across the sector.
The day was structured around the four stages of the Design Council's Double Diamond framework - this is a collaborative design process. These stages are: discover, define, develop and deliver, and tools can be used to support people to work together through each of these stages. 
On the day, we presented our co-design tools at different design stations. Participants were given the opportunity to read the instructions and engage with each tool. We then had a conversation about our experiences of using each tool and how they could be adapted. We also sought feedback on whether the tools were accessible/understandable.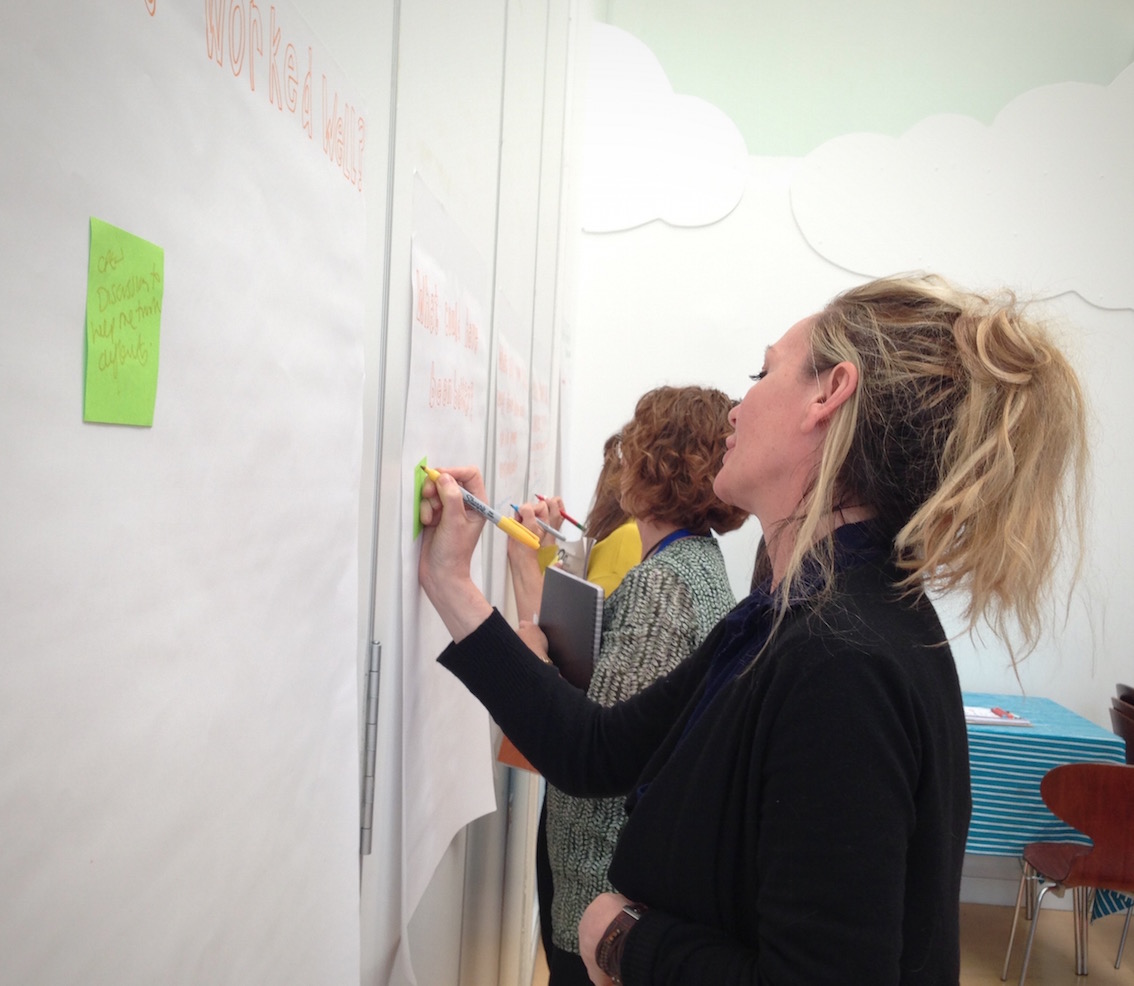 It was a full on day with lots of moving around, but as a staff team, we found it invaluable to hear how the tools could be used in different contexts, and to get detailed feedback on how each tool could be improved.  It turns out that we were not the only ones to enjoy the day! At the end of the session, we asked the group what they thought had worked well, and what they thought could've gone better. Here are some of their comments:
What worked well?
Open discussion to help me think differently
Moving about, giving feedback, exchanging ideas and experiences
I have not been involved in participative work for a long time and the new language (e.g. coproduction and co design) had confused me, knocking my confidence in this area. Through being absorbed in the tools and discussion around approaches I left able to affirm my previous experience and felt more confident in approaching the task ahead.
Facilitators: friendly, open, honest, real
Interactive - great way to meet others and share experiences, and speak openly
What could've been better?
Seeing examples of how the tools worked with groups could have been really useful
Images and visuals in the instruction sheets could have been included
More live examples of tried and tested methods
More doing! Trying the tools out on activity - I'm an experiential learner maybe a two day programme would have been useful
Discussions on the day
We spent some time considering broader themes relating to the use of co-design tools in practice on the day. Here we outline some of the topics discussed  
Organisational capacity
There was a lot of discussion throughout the session about how practitioners could be enabled to promote this way of working within their organisations. It was clear that the current operating context is challenging, and there was a sense that people felt that they'd need support to 'sell' this way of working internally. 
That said, in the open space discussion at the end of the session, the group developed a range of ideas about how to gain and foster organisational support for co-design. In the end, we decided that the move towards co-design needs to be supported by a much broader culture shift in each organisation, but also by the sector. The group were clear that these more participatory methods are rooted in the vision and strategy, but that there has to be a supportive and endorsing culture nurtured from above, and encouraged to develop below in each organisation.
Evidencing impact
Linked to the above topic, was the question about how to gather evidence for this type of approach. There was a sense from those present that co-design is useful and intuitive for many, but that understanding the impact of the use of the approach in practice could be tricky. The group considered that participatory methods of evaluation would be the most appropriate forms of evaluation to use for this work and could be integrated into the body of the work, so that it didn't 'feel' like another thing that people were having to do. Similarly, evaluating and continuing to check-in on progress as well as how people are experiencing the work throughout a process was considered vital. 
Skills and confidence
On the day many people commented that having the opportunity to develop their personal skills and confidence, not only to use the tools, but also to familiarise themselves with the surrounding processes for using tools would be useful. This was where people commented on the need for effective facilitation skills and a chance to try, fail and learn from testing out their use at a slower pace and in a safe space. 
Ability to adapt tools for context
We know all about the importance of context at Iriss - selecting the right tools for the right purpose and using them effectively can be difficult. What was clear from the feedback from the event, was that there was a need for more concrete examples to be provided alongside each of the tools so that people could have some ideas about how they could be used in different contexts, and for different purposes.  The group itself generated a wealth of ideas, through discussion, that we'll document and include in the commentary of each tool.
Improving the tools
We have now analysed all the feedback we got on the day and work has just begun to enhance the tools that participants identified needed improvement and to amend the instructions. Access the updated Pilotlight tools and Hospital to Home tools.

If you're interested in reading more about this topic, in partnership with Imagination Lancaster, we are soon to publish a short paper that draws on our experiences of using tools to support creative engagement - it includes sections on (1) what we mean by tools (2) why tools can be useful (3) how tools can be adapted (4) the outcomes of using tools. Watch this space!