At this year's Fire Starter Festival, Iriss teamed up with the Scottish Social Services Council (SSSC) to deliver an 'Igniting Ideas' workshop, which was focused on how co-production and systems thinking could help get ideas off the ground. It was open to anyone working in social services.
The team spent the day investigating different approaches to project planning, ways to overcome challenges, and to ensure that all voices are heard in the process. 
The day kicked off with coffee and a model making task. Everyone was asked to create a mini version of their 'challenge' using play dough, Googly Eyes and Lego. The results were fantastic! Challenges identified ranged from looking at creating a theatre from a disused community building and improving advocacy for people using care homes, to tackling wider systemic issues such as Brexit and borders.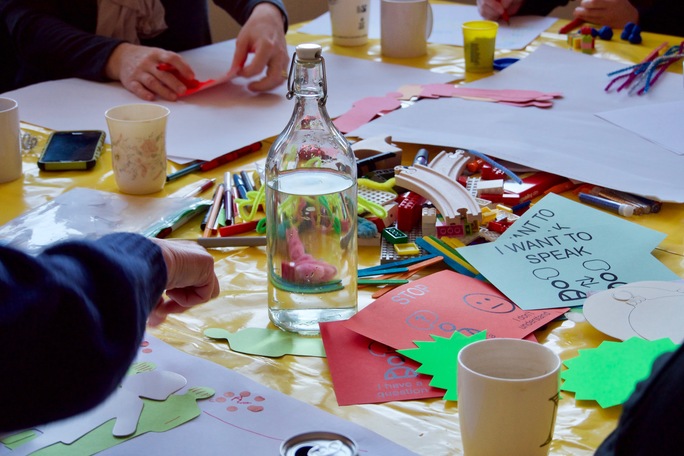 The challenges were then picked apart using systems thinking. The group discussed how to identify the different factors at play in a system and how to build the bigger picture. Conversations were opened up using creative exercises, such as the iceberg model to explore the patterns, structures, processes, values, beliefs and designs that could influence projects.
After working brains hard for a few hours, a well deserved (and delicious) lunch was served before the group dived into the world of co-production. Attendees were given a copy of the new Iriss co-production project planner to support them on developing a live co-production plan. A lot of chatting, thinking and making ensued. From creating hats (based on de Bono's Six Thinking Hats) to explore issues from different perspectives, to using the design council's Double Diamond model, lots of new approaches were tried and tested.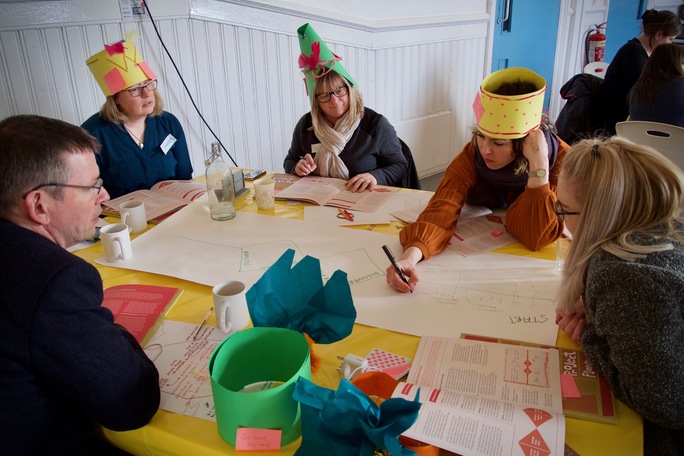 The day was all about using design methodology and systems thinking to support a shift in power away from professional expertise towards an asset-based understanding of everyone's inherent knowledge and value.
Feedback was positive and people left feeling energised and enthused.
I think you have made an absolutely fantastic job of this toolkit ... I have looked at a lot of toolkits out there and none of them really give you the 'tools' to get the job done.

I feel more aware of the processes and questions to ask regards to co-production.

I feel more confident about planning my project and expressing my ideas.

I enjoyed meeting people in the same and different fields all wanting to take time to think about how to improve their service, awareness and thought processes.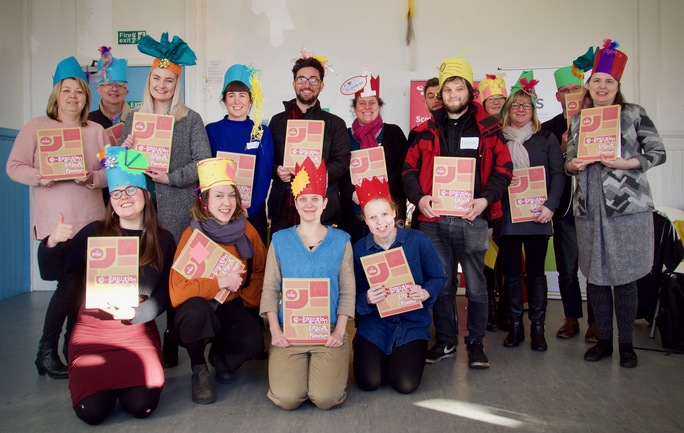 If you would like to learn more about this workshops or are interested in having a workshop delivered to your group or team, contact Josie Vallely.

Order a free copy of the co-production project planner.