The Dundee Early Intervention Team (DEIT) provides early intervention support to families.
DEIT is a partnership since 2011 of the four leading children's charities in Dundee – Aberlour, Children 1st, Action for Children and Barnardo's Scotland. The team works together with Dundee City Council, NHS Tayside and Dundee Voluntary Action and is funded by the Big Lottery Improving Futures programme.
Practising a social pedagogy model, the team work alongside families to build their capacity to tackle challenges and make sustainable change. Families supported by the team report feeling hopeful, empowered, listened to and cared for.
Relationships are at the heart of the work.
Impact of DEIT
As part of the Big Lottery funding programme an independent evaluation led by Ecorys was published in May 2017. It identified four key approaches to the DEIT support provision which contributed to its effectiveness:
Social pedagogy - families are viewed as experts. Positive and genuine relationships are built and support is collaborative between family and worker.
Flexible support for families - support can be accessed seven days a week, 7am to 10pm. Workers can witness the challenges facing families first hand giving them authentic insight into the family's needs. Families reported feeling listened to and 'believed' because workers had seen some of the issues they were struggling with.
Easy to access support - one point of access, removing duplication of information sharing and multiple assessment processe
Building community resilience - helping to ensure sustainability and reducing isolation by building capacity within families and their wider communities.
Conversations with families and their DEIT worker captured through this project bring to life the difference this blend of approaches really makes to parents and children.
In addition to aspects of support noted in the evaluation, conversations with families also uncovered additional factors that mattered to them including:
Improved understanding
I don't know if it's just cos I didn't understand it… But then that training sort of made you realise that Riley can't help doing that… it just makes you realise a wee bit better… just to understand him a little bit more. (Debbie)
Through working with Natalie it's made us realise and even Natalie's realised that there is something more underlying with Harrison, it's not just emotional from what everybody else seems to think (Fiona)
Often, families didn't have an in depth understanding of the drivers behind their child's behaviour and benefited from learning, recognising and understanding more about the difficulties their children were experiencing. They also benefited from the support worker's objective view and from learning coping strategies, resulting in them feeling more confident, empowered and hopeful.
Speed of access and improvement
I got a form to fill out and was on a waiting list… my negative opinion at that point was 'oh that will be another thing I'll wait months and months and months' but it came through really fairly quickly (Pam)
This team had came in so quick… John had been off for three months at his school. Once this team had stepped in he was back in there by two weeks. (Graeme)
Families were surprised by the DEIT support - that such a team existed in their area in the first place, and that there wasn't an enormous waiting list. Several families referenced their experience of the lengthy Child and Adolescent Mental Health Services (CAMHS) waiting list and so were delighted with the speed of access to the DEIT and also of how quickly they noticed improvements either in their children's behaviour or their own feelings of wellbeing.
Practitioner conversations - the long and the short of it
Natalie, Harriet, Jade, Bianca and Brian share their experiences of working with families as part of the Dundee Early Intervention Team.
The shorter version includes discussion about the challenges of building trust and relationships, the benefits of providing flexible support to families and the importance of empowerment.
The extended conversation covers the wider range of topics including reflections about the social pedagogy model, the vital importance of developing authentic relationships with families, challenges of building trust and relationships, the benefits of providing flexible support to families in their homes and of the firsthand insight this gives them into the family's challenges.
The discussion also includes reflections on early intervention, changing tariffs within social work, the importance of fostering hope in families, and of ensuring they feel listened to. The team talk about how peer support works in the team and what they feel is the most important learning they've gained through being part of the DEIT team.
Family conversations
Three families and their DEIT practitioner share the difference support from the team has made to their lives.
Partnerships & CO: Conversation Openers
The partnership developed to deliver DEIT has been a key factor in its success. The structure has enabled staff to support families to engage and access a range of services, both within the delivery partnership and with external agencies. (Dundee Early Intervention Team, Independent Evaluation Report, May 2017)
The project between Iriss and the DEIT involved three workshops with the steering group which included senior managers from the lead partner organisations. The focus of these workshops was to provide space and structure for reflecting on and capturing key learning from the partnership and of ways to share this with a wider audience.
What surfaced from the workshops was that the success and effectiveness of the partnership lay in the quality of conversations in the partnership - continuous, reflective, cross-cutting, sometimes difficult - but ultimately a key mechanism through which they were making a difference to families in Dundee. From this, the idea of the Partnership & CO conversation tool was formed. Building on other tools Iriss has developed with partners (e.g Relationships Matter, Outcomes & CO), it made sense to embed the team's learning into a resource to help others navigate conversations that can support effective partnerships.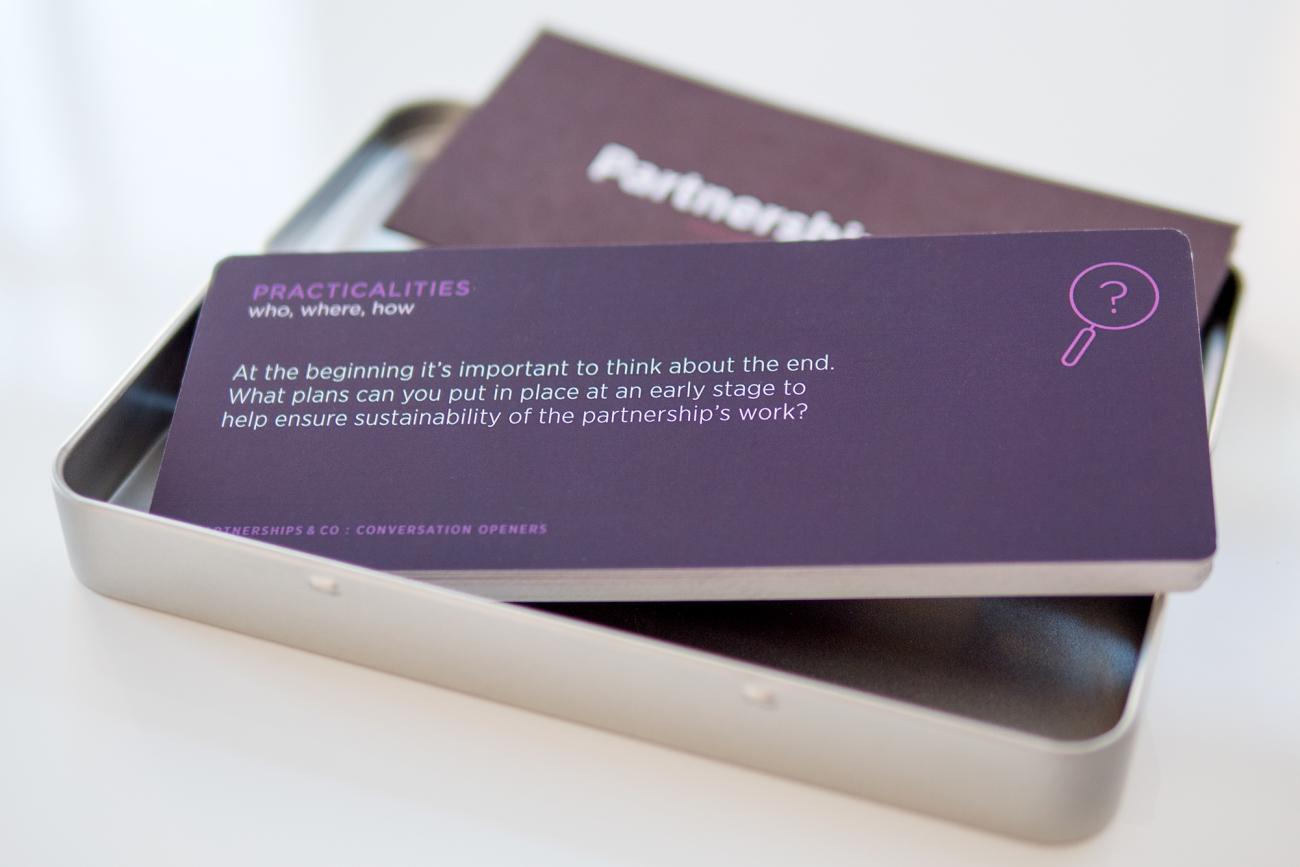 Partnerships & CO aims to provide a framework for navigating conversations that can support an effective partnership. It is designed to be flexible and adaptable to a variety of contexts where partnership working is the focus for discussion across the social services, health and housing sectors. Some of the topics may be more relevant to work with families and to early intervention. Its coverage is not exhaustive or prescriptive but aims to provide some conversational touch points in what can be a complex area.
Acknowledgements
Many thanks to the DEIT team practitioners, steering group and families who shared their experiences and gave generously of their time to the development of these resources.